It has been a while.
I know.
I've been through a lot of life stages with this blog o' mine in the past 8+ years.
I don't know if I can pinpoint one specific thing that has pushed blogging to the back burner. It seems that it was a collection of things… primarily the STRESS that is TEACHING combined with being wife as well as mom of 3 wild ones.
Part of the reason I think was the issue of the haters. I was reluctant to put myself out there blogging again and open myself up to the negativity. I was over it.
Blogging is a funny thing. You as the blogger open yourself up constantly sharing your thoughts, opinions, feelings, and even your failures. Talk about vulnerability. The problem is… unlike a typical off line relationship, that vulnerability isn't always reciprocated. Instead others can constantly draw from your vulnerable moments and use them as weapons against you.
I recently had a moment of truth where I realized I was letting the haters win. They were getting to dictate my life. My lack of blogging. Something I enjoyed.
'Haters gonna hate' as Taylor would say, and I decided I didn't want them to determine what I do.
So here I am. Blogging again.
Side Note: I actually started this post March of 2015 but left it in the draft folder. I guess I still was hanging onto the idea that maybe it was smarter to just keep things to myself and not risk the sharing.

I recently read two books by Brene Brown that did a lot to open my eyes about this issue… Daring Greatly and Rising Strong. I am trying to remind myself that being willing to open up and be vulnerable leads to wholehearted living, and that's the kind of life I want to be living.

So here I am… editing and updating and hopefully finally publishing this post.
As many of you may know, two years ago I had a early mid life crisis and became a quitter.
I said good bye to the overwhelming life of Teacher/Mama.
I could go on for pages on my teaching dilemma/mid life crisis, but I'm sure it would be things you have all heard before.
Suffice it to say, if you have little cherubs in school… please take it from me. Give your poor teacher a break already. Don't complain about the small stuff he or she does that bothers you. Remember that they are working harder than imaginable for way less money than is believable. No one is perfect, and the occasional unfair situation to your precious angel will be good for their character anyway. So stop complaining. Go out of your way to show your appreciation.
Walking away was not easy. It meant gobs and gobs of unknowns. Unknowns about what in the world I was going to do. Where would I work. Where the kids would go to school. Who would watch Davis. How would we be able to manage the drop offs and pick ups for all three etc, etc, etc.
Despite all the fears and the mountain of unknowns that are like cryptonite to this mama, I gulped and took that skeery first step into a new path for me… and our family.
I was serious. I sold almost ALL of my teaching supplies at a yard sale. I kept one bin.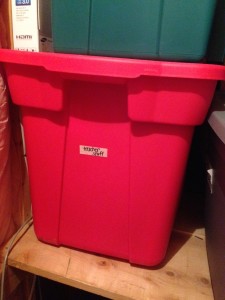 After two years away, I can't say for sure that I will NEVER go back. The time away has made me forget some of the trauma, I think.
Our hope was to keep Haylee and Wade at Northside, but without my job settled we didn't see how that was going to work.
After a friend of mine applied and quickly got her son into a nearby charter school in May, I decided to see if Haylee could get in… and she did! We were able to join up with a carpool and only had to do 2 shifts a week doing drop off or pick up of a van full of kiddos.
We enrolled Wade in our local community school just down the road, and thankfully our friend, Heather, who lived near us was willing to watch Davis.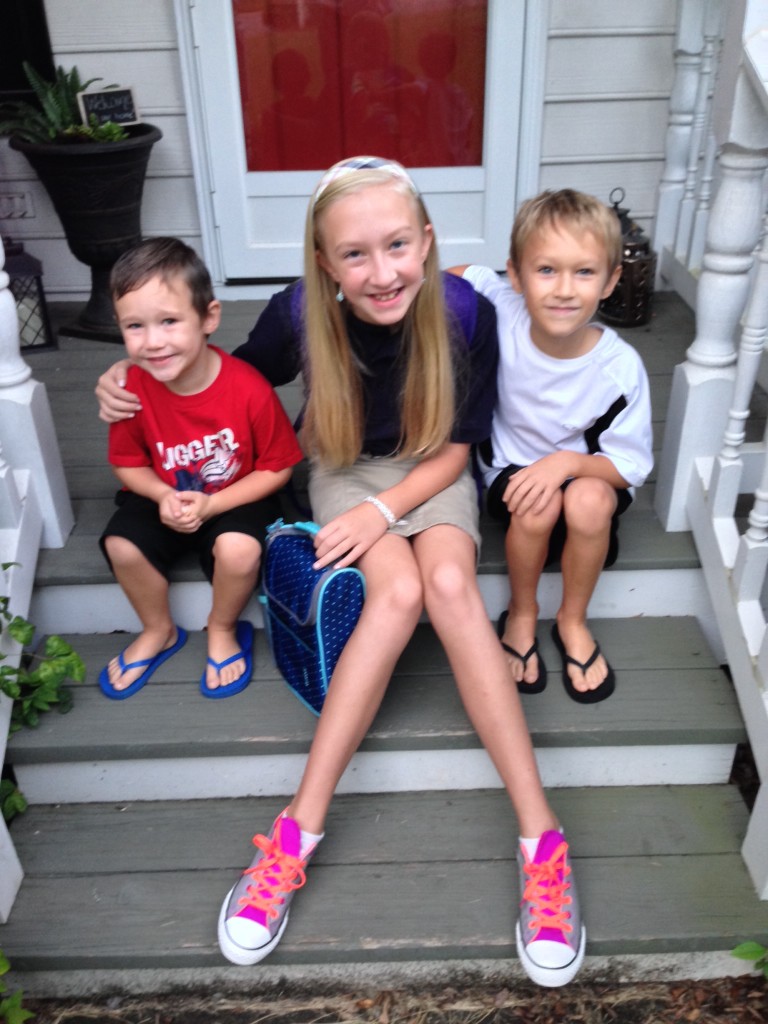 This was a big deal since NONE of my three kids had ever been anywhere but Christian school where I was right there on campus teaching. Now we were at two different brand new public/charter schools where I knew NONE of the teachers and staff. Talk about culture shock.
We were initiated rather harshly to this brand new world on Wade's very first day of school. This was his very FIRST time riding a bus to and from school and we were a bit concerned that our never-paying-attention-to-anything-Wade would be able to handle this. I mean as as a 6 year old it's not like he looked out the window and paid attention to landmarks and street names.
Heather had agreed to meet the school bus at 3:30 to pick him up, but I got a text from her saying that she was still waiting for Wade. It was around 3:50 at that point.
I was on the brink of hysteria for the next 20 to 30 minutes as we all were trying to find that silly boy. I called the school repeatedly and could NOT get through.
Once we finally got through we realized that he had told his teacher he was a car rider so he was blissfully sitting in the office waiting on someone to come get him. At this point he had been missing FIFTY minutes!
When I had told him beforehand that Heather would be picking him up from the bus stop, there ensued a discussion about whether she would be in a car or a van. So in his mind, he would be riding in a car "at the end" so that's what he told his teacher! She took his word for it even though I had filled out "bus rider" on the paperwork. Aghhh!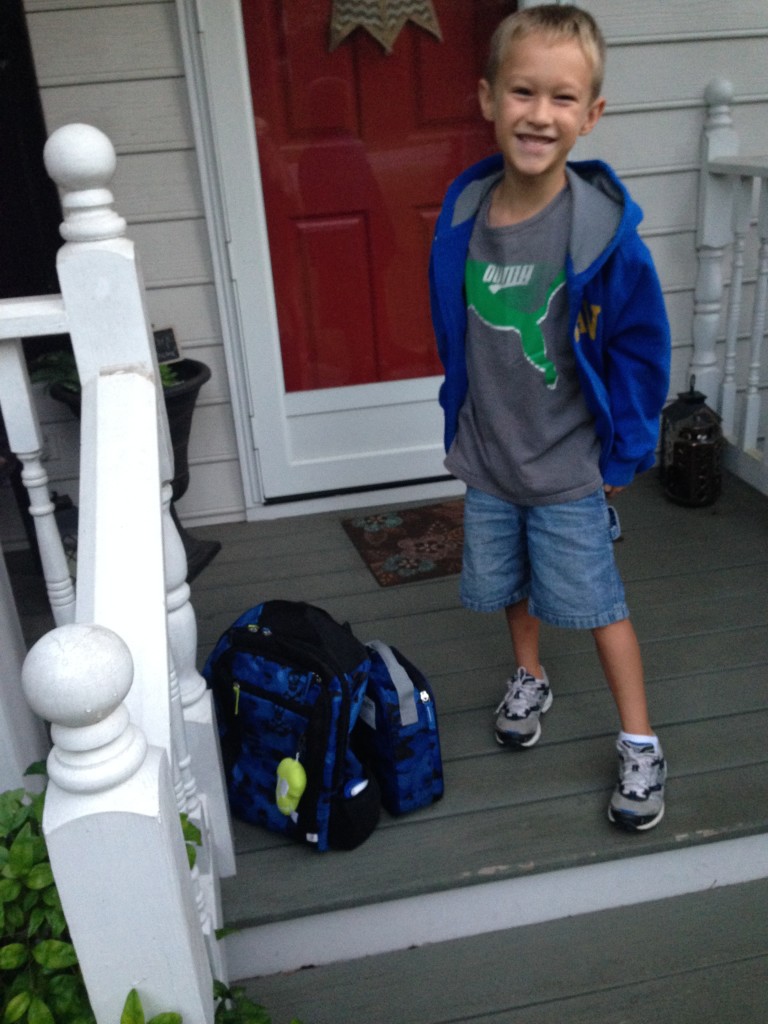 The next day wasn't much better despite us grilling him about getting on the bus. He didn't get off at his stop! He said he saw Heather's van but he just thought she was out driving around! Ahh! That boy!
He has since managed to master bus riding, though we did have a spell there where he was bartering for random things AND cash while on the bus. He rolled in one day with a $5 bill! He sold a bag of microwave popcorn he had won from the teacher! Another day he sold a picture he drew for a dollar. And one day he traded something from his lunch for a pedometer. That afternoon he transformed into the Tasmanian Devil zipping through the house while periodically checking his pedometer to measure his progress.
Whew! If you finished reading to the end you deserve a prize!
Stay tuned to discover the details of my work saga… I landed in a strange new world vastly different that my teaching world.
I hope to share more soon!
XO,