Ahhhh. Can you hear my sigh of contentment?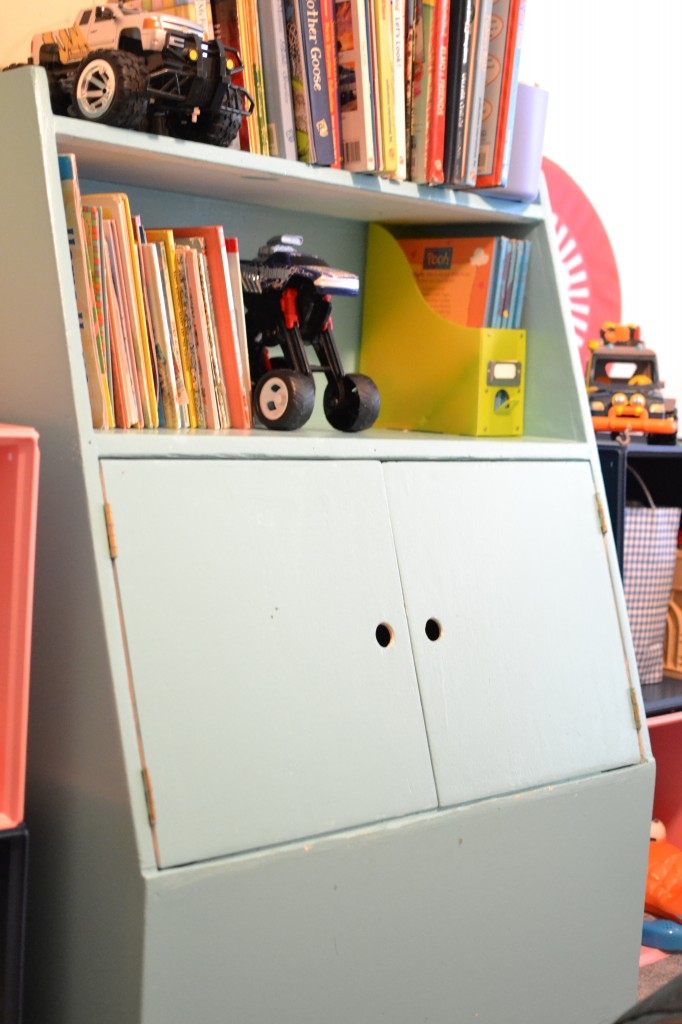 The toys in our house have.a.PLACE.
One of the things we love about our new house is the bonus room, aka… playroom!
Previously in our cozy 2 bedroom house, all the toys had to find a place inside the one bedroom that all three kids shared, which also happened to house hubby's closet.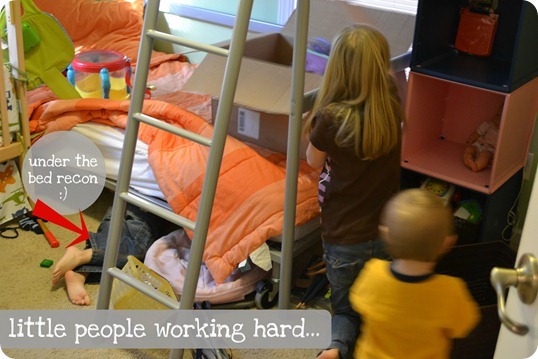 There was hardly a few square feet of open space in their bedroom so leaving toys out was never doable… unless you wanted to break your neck and land up with one foot under the bunk bed and other in their wardrobe.
As with every room in the new house, we are sloooowly transforming it bit by affordable bit.
One of the very FIRST things I redid when we moved was the toy box. I can't remember exactly, but I think it was the night we moved in that I went out to the garage and painted that baby up. I think it was midnight maybe.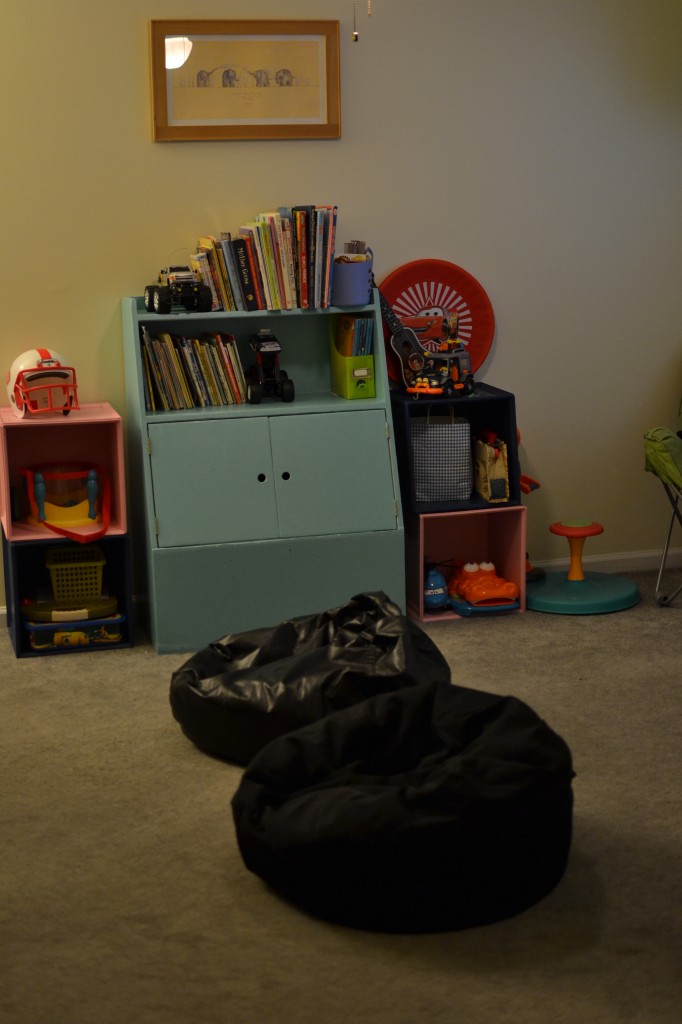 My thinking was that the sooner I got it painted the sooner that we could get in up in the playroom and all the toys in there and put away!
When we got this toy box ages ago, it was given to us and was white with sponge painted flowers. Chris painted it white and it served us well.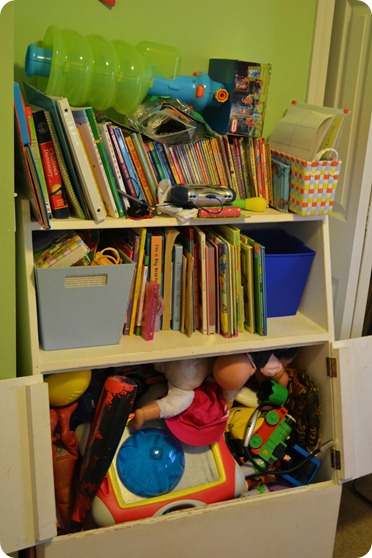 I decided that in the playroom, it would be cool to do a nice, bright color.
I really, really love how it turned out!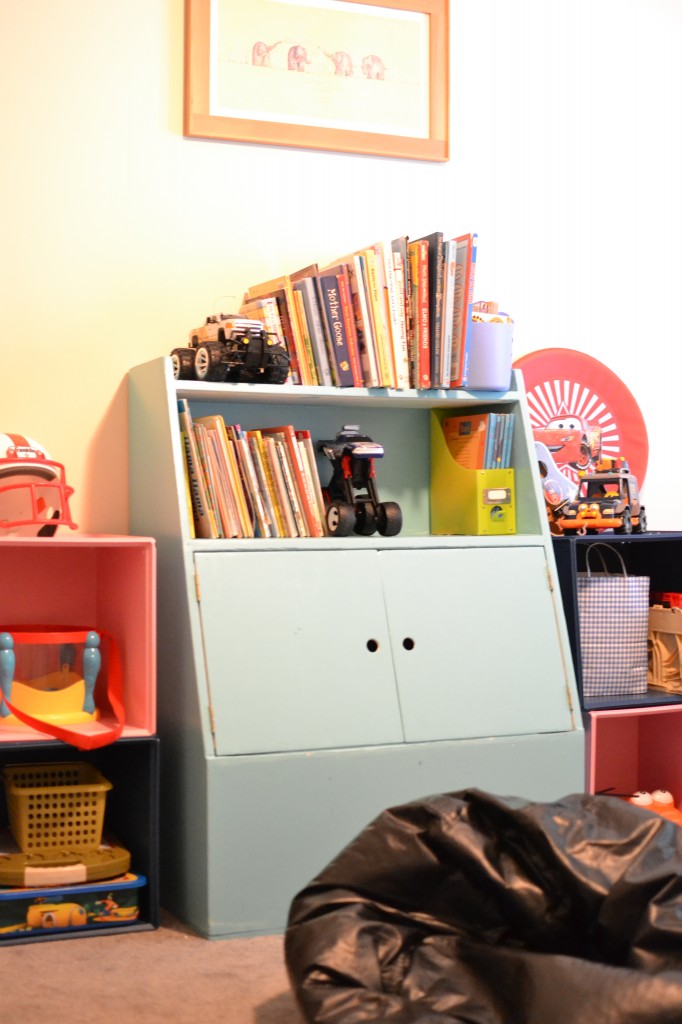 We also found a TV stand/storage unit at Goodwill for cheap that gives some extra places to store things.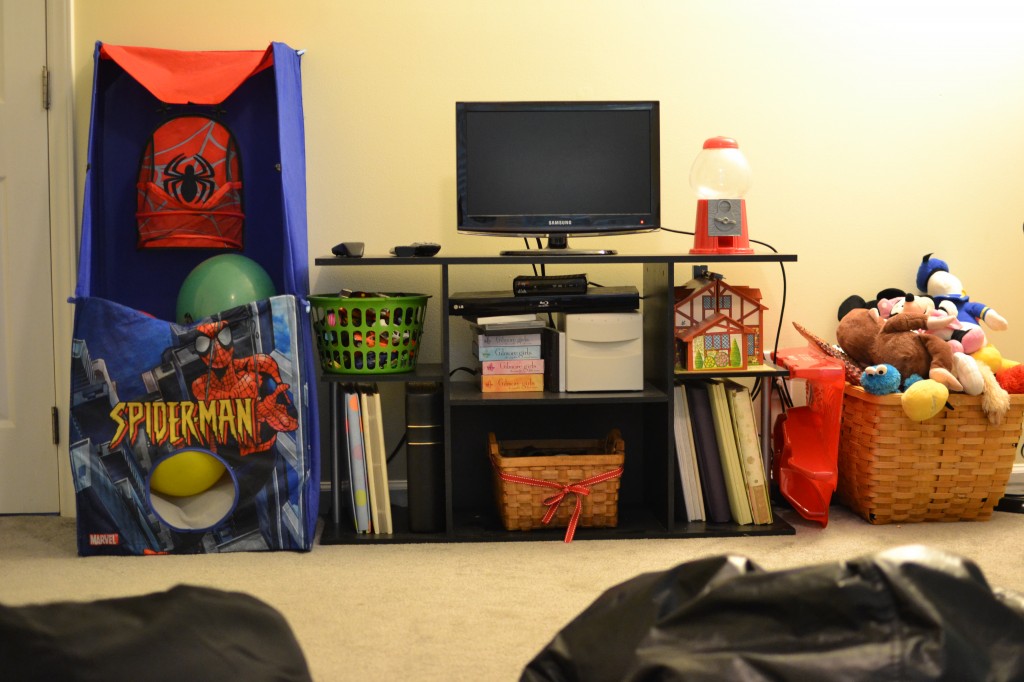 I snagged that pop up basketball goal for around $2 at Goodwill, as well! Never in a million years would we have been able to have that at the old house. Would not have happened.
That door there beside the basketball goal is the office, and off the office is our small attic closet.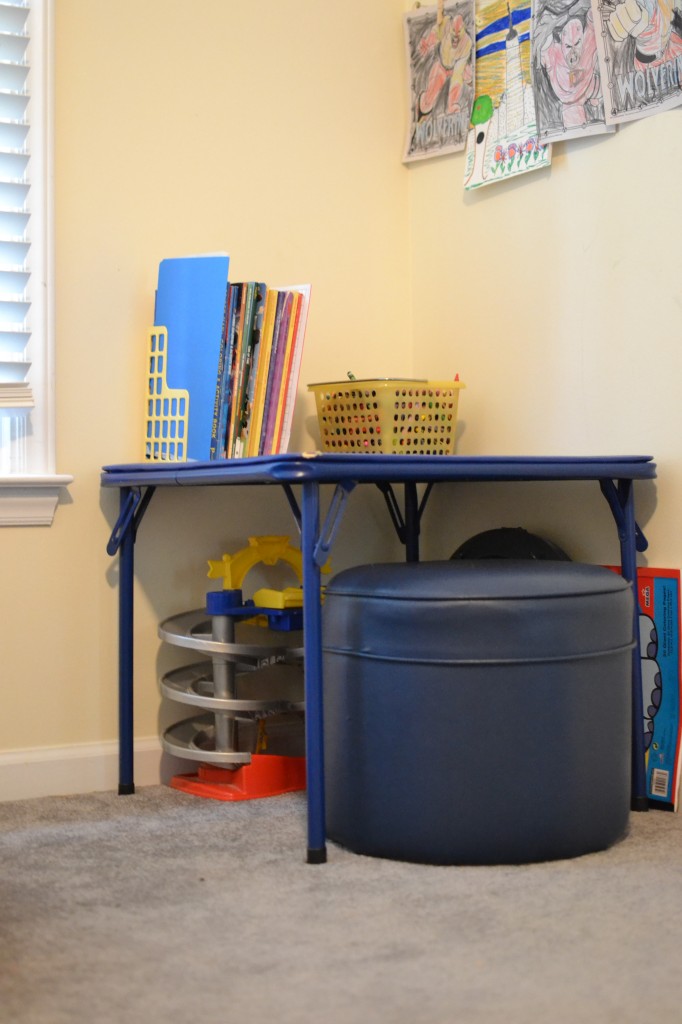 Wade is completely obsessed with coloring these days. Like, completely obsessed. I made this little art nook in the corner where he sits and sits and actually colors quietly.
I know. We are as shocked as you are.
He began amassing quite the stockpile of precious creations he just had to have plastered on his wall. I wasn't really feeling that, so my solution was to tack up some string and clothespins and voila. A fabulous art gallery.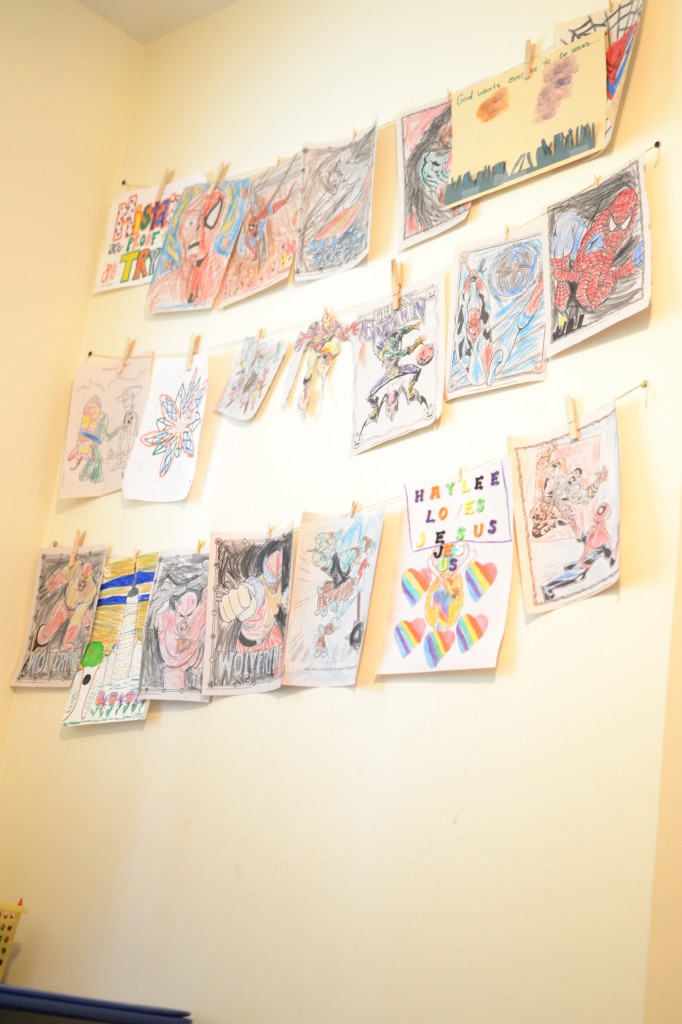 Wade thinks this is the bomb. I have tried to train him that when he wants to put up a new picture, then he has to pick one to take down. We'll see.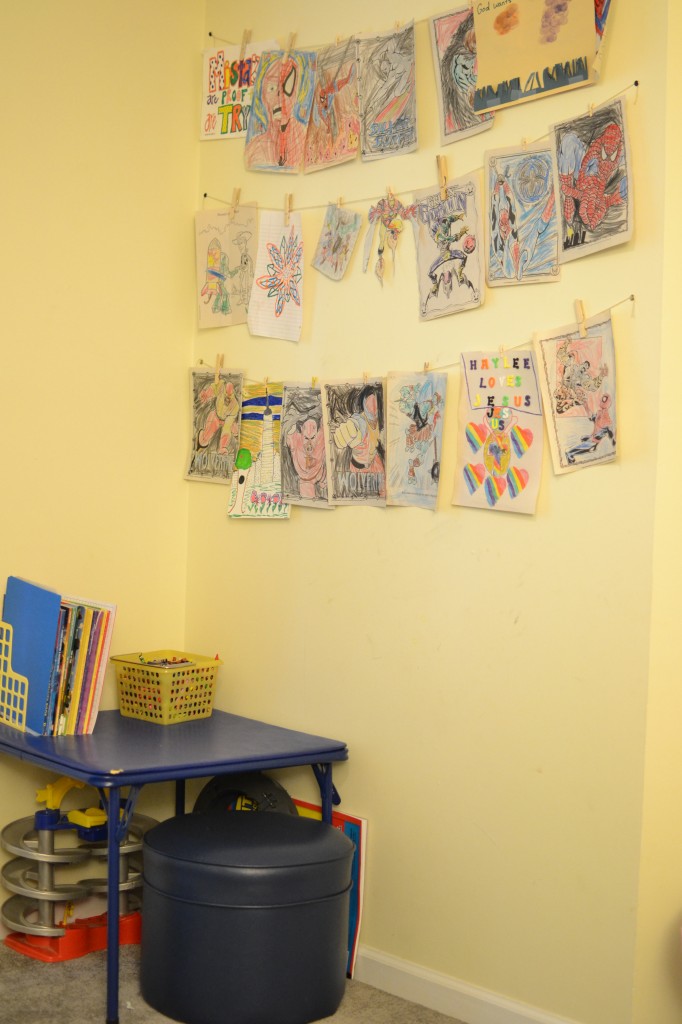 The other section I love in here is the dress up corner. We had this portable clothing stand and we weren't sure what to do with it. I had the idea one day to use it for their dress up costumes.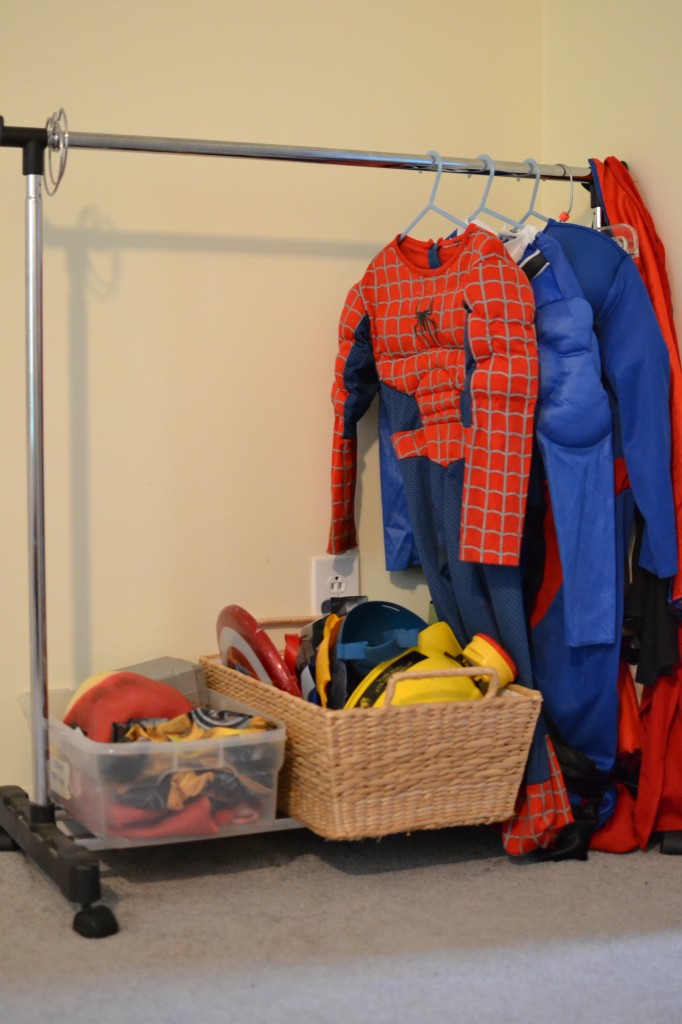 Wade and Davis absolutely LOVE dressing up and we have quite the assortment of dress up gear. This isn't the greatest system because it usually looks like a hot mess of costumes strewn everywhere.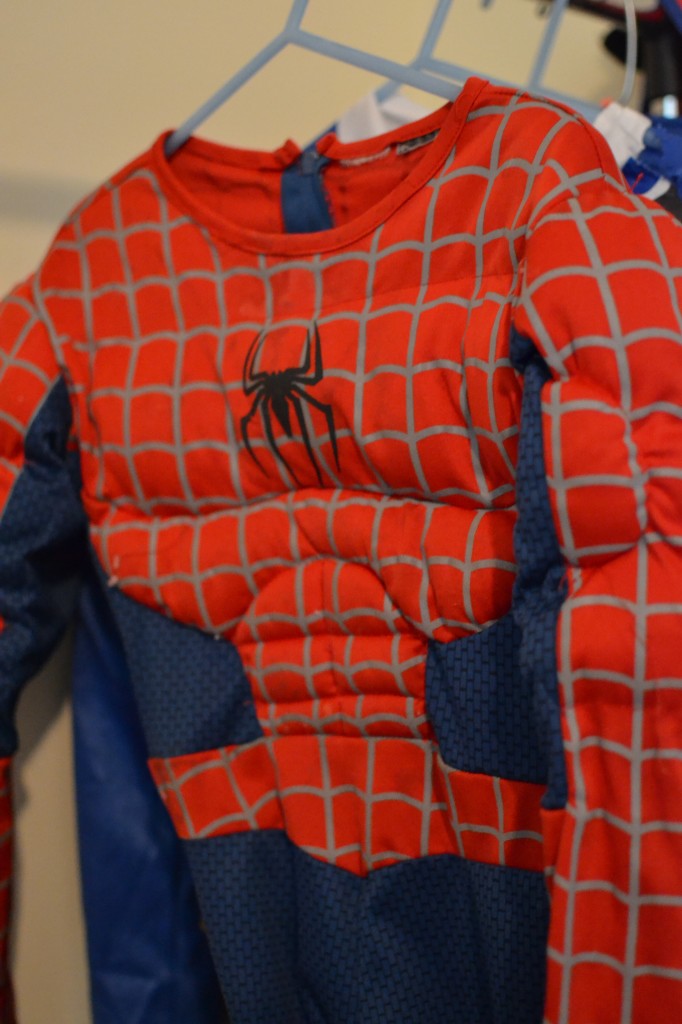 RARELY do they hung back up on the hangers. My latest idea is two rows of coat hooks where they can just hang 'em up really quickly on a hook as opposed to having to actually grab a hanger.
I'm hoping that it will make it easier to actually keep it straightened up.  :) I can dream, okay?
I also have a playroom subway print I'm working on that may go right above that.
This room is definitely well loved by the crazy ones and grown ups alike.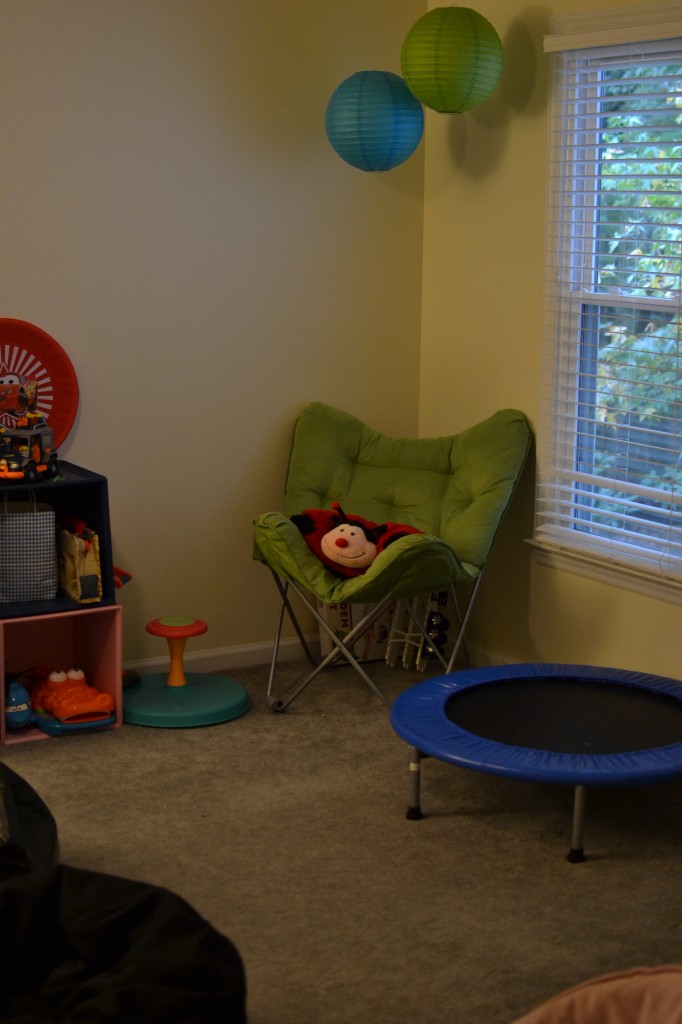 What do you think? Any ideas for me? I am definitely not accustomed to enjoying such a room!