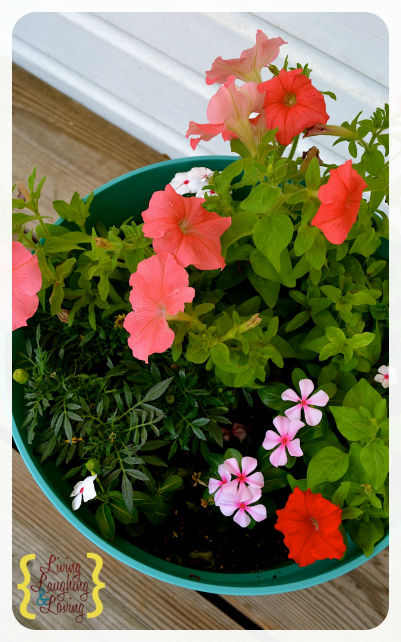 I do NOT have a green thumb.  Not even close.  Seriously.
But I love flowers and plants and those touches of color and life and all that.  Adds a very nice element to your home, you know?
We do have this will-not-die hydrangea bush that Chris's aunt actually planted many moons ago.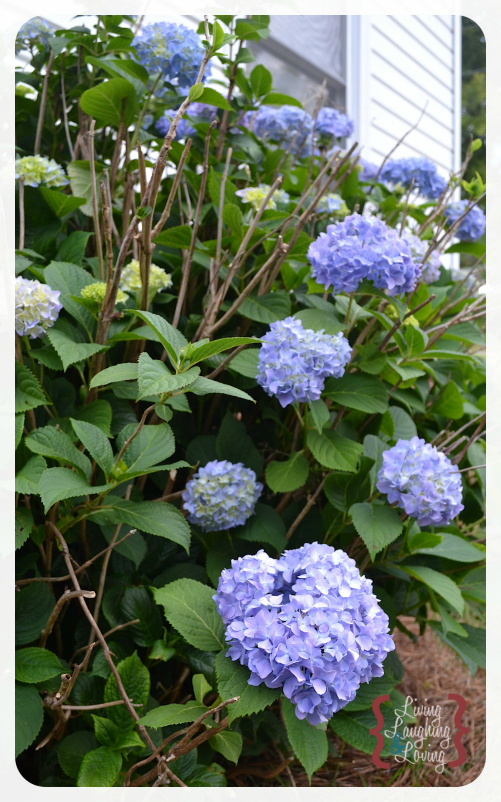 Don't you just love hydrangeas?
Since I am flower-impaired, I was shocked at the idea of adding several different types of small cheap flowers in one giant pot or urn for a BIG effect.  My wheels started turning and my optimism started growing, and I decided I could give it a shot!
I was delighted to find a HUGE turquoise pot at Walmart for super cheap.  Of course, I don't remember now how much it was, but it was less than $5 I think.  They also had red and yellow too.  They are made of a hard plastic, and really could be used for cute storage too.
I also picked up some soil and four small flowers to plant together.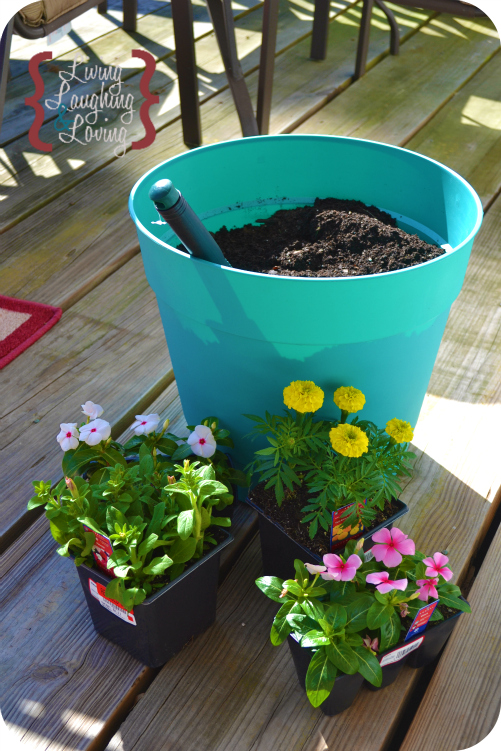 I think those are petunias on the left there without any blooms.  They were clearanced out super cheap due to their bloom-less state, I suppose.
Remember, this is SO not my expertise, and I was not exactly pleased with the look when I was done.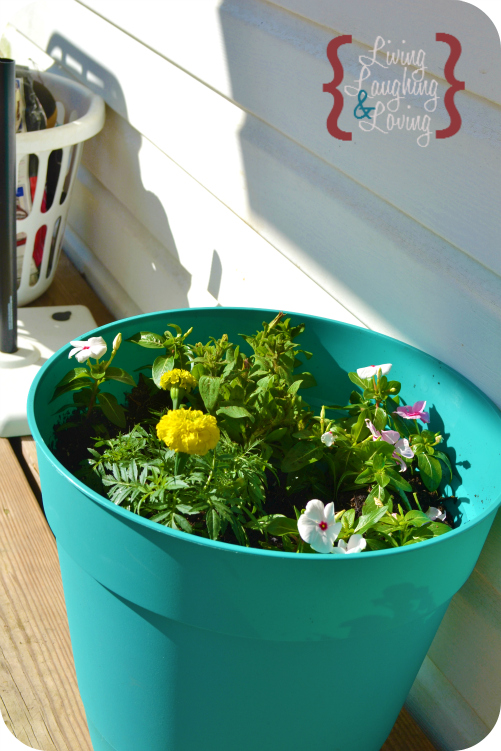 Chris said I should have filled it with more soil first so that the flowers would, uh, actually show, but hey, let's not get picky.
It's been a month or so later, and they have really bloomed up nicely, believe it or not!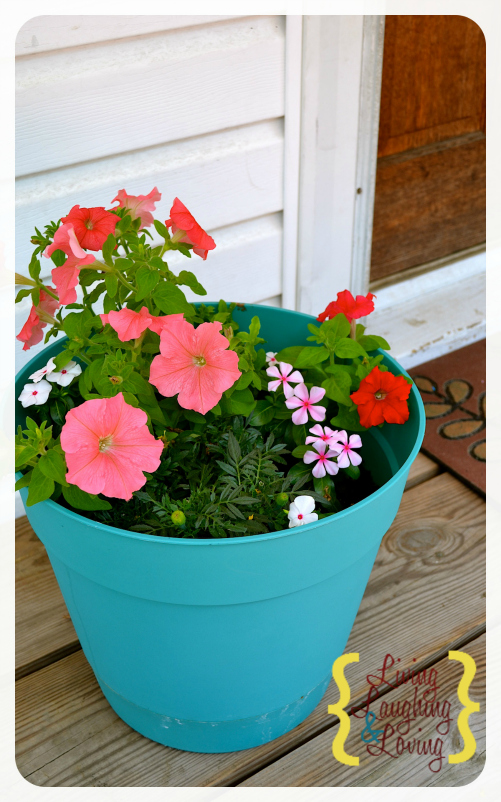 Davis is extrememly attracted to my cheery flowers and loves to bring them to me, so it's a miracle there's any left at all, really.  :)
I had intended this for the front porch originally, and it would be much safer from Davis there.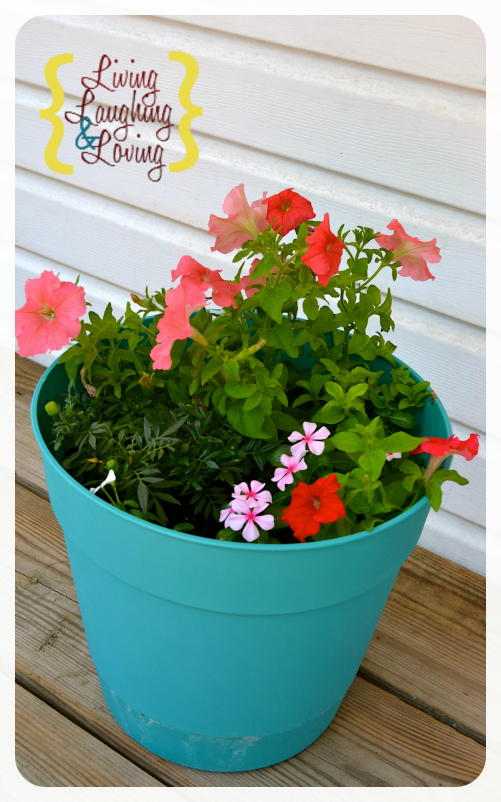 It also would mean much fewer chances of me remembering to water the poor thing too though.  So for now it's stayed as a bright cheery spot on our back porch!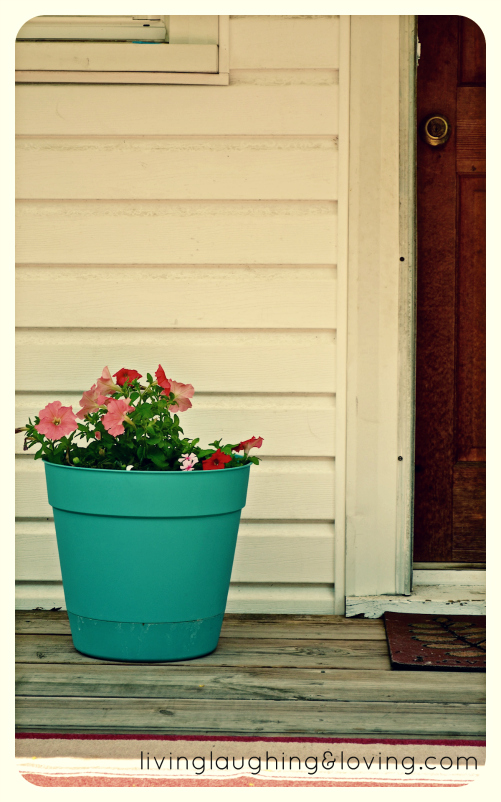 Are you a flower person?  Have you ever thought about adding several smaller flowers to one pot??  Makes a big impact for CHEAP!

*Sometimes I link up at these parties… Weekend Bloggy Link up, Tatertots & Jello, House of Hepworths,Bowl Full of Lemons,Organize & Decorate Everything, Not Just a Housewife, Funky Junk Interiors, Shabby Creek Cottage, Skip to my Lou,Today's Creative Blog, the 36th Avenue, Thrifty Décor Chick, Home Stories A-Z, Five Days Five Ways, How to Nest for Less,Positively Splendid, Six Sisters Stuff, and Someday Crafts. You should check 'em out!!